If you missed some of these links earlier in the week, they might prove to be a good way to ease the clock toward quitting time.
The week's best polls ...
1. Will Jeremy Lin stay with the Knicks?
2. Are the Lakers done as contenders?
3. Can the 76ers complete their comeback?
4. Who will prevail at UFC 146?
5. Has Albert Pujols' slump finally ended?
6. Will Tim Tebow make it off the punt team?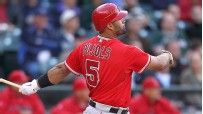 The week's best rankers ...
1. Which is baseball's best team?
2. Which are the best 2012 college football matchups?
3. What are the top WCWS moments?