Red clay isn't easy to master. Yet if one of the top three men's seeds wins the 2012 French Open, history will be made. The question is, who will it be?
On the women's side, things aren't clear at all. The top seed is struggling with injuries. No. 2 Maria Sharapova has never reached the final at Roland Garros, and No. 3 Serena Williams last won there in 2002.
---
Top picks
Defending champion Rafael Nadal seemingly has the easiest draw as Novak Djokovic and Roger Federer could meet in the semis.

---
A homegrown champ?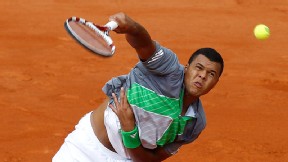 There hasn't been a French men's champion at Roland Garros since Yannick Noah lifted the trophy in 1983. Could Jo-Wilfried Tsonga change that?

---
Screaming through?
Maria Sharapova has shined on clay courts so far this year.

---
Clay feat
John Isner (above) reached the final at the U.S. Men's Clay Court Championship, while Andy Roddick hasn't gotten out of the quarterfinals of a tournament this year.

---
Major comeback?
Serena Williams (above) won Wimbledon in 2010, then hit a Grand Slam title drought. Roger Federer's last major win was at the 2010 Australian, while Maria Sharapova's last was the 2008 Aussie.