The 33-player American League and National League rosters are set for the 83rd MLB All-Star Game held this year at Kauffman Stadium in Kansas City. Which league has the advantage at each position? Will the NL win its third consecutive Midsummer Classic?
---
Prince Fielder or Joey Votto?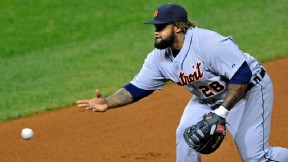 NL: Prince Fielder, Detroit Tigers
Fielder: .375 OBP, .486 SLG, 12 HR, 53 RBIs

AL: Joey Votto, Cincinnati Reds
Votto: .471 OBP, .632 SLG, 14 HR, 47 RBIs

---
Robinson Cano or Dan Uggla?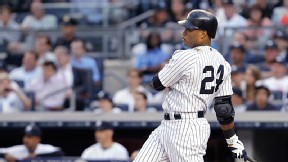 AL: Robinson Cano, New York Yankees
Cano: .371 OBP, .591 SLG, 20 HR, 46 RBIs

NL: Dan Uggla, Atlanta Braves
Uggla: .362 OBP, .410 SLG, 11 HR, 43 RBIs

---
Adrian Beltre or Pablo Sandoval?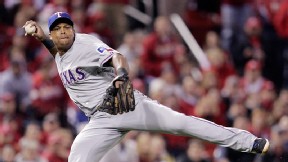 AL: Adrian Beltre, Texas Rangers
Beltre: .360 OBP, .534 SLG, 14 HR, 52 RBIs

NL: Pablo Sandoval, San Francisco Giants
Sandoval: .366 OBP, .482 SLG, 6 HR, 25 RBIs

---
Derek Jeter or Rafael Furcal?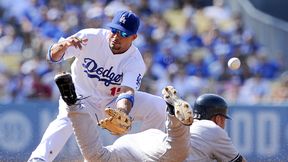 AL: Derek Jeter, New York Yankees
Jeter: .349 OBP, .402 SLG, 7 HR, 25 RBIs

NL: Rafael Furcal, St. Louis Cardinals
Furcal: .345 OBP, .375 SLG, 5 HR, 31 RBIs

---
Mike Napoli or Buster Posey?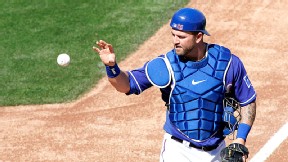 AL: Mike Napoli, Texas Rangers
Napoli: .338 OBP, .444 SLG, 12 HR, 30 RBIs

NL: Buster Posey, San Francisco Giants
Posey: .363 OBP, .472 SLG, 10 HR, 40 RBIs

---
Better starting outfield?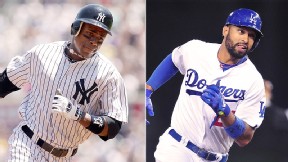 AL: Jose Bautista, Blue Jays (.902 OPS); Curtis Granderson, Yankees (.857 OPS); Josh Hamilton, Rangers (1.038 OPS)

NL: Carlos Beltran, Cardinals (.972 OPS); Melky Cabrera, Giants (.907 OPS); Matt Kemp, Dodgers (1.163 OPS)

---
Better starting pitchers?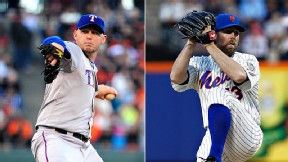 AL: Matt Harrison, Felix Hernandez, David Price, CC Sabathia, Chris Sale, Jered Weaver, C.J. Wilson, Justin Verlander

NL: Matt Cain, R.A. Dickey, Gio Gonzalez, Cole Hamels, Clayton Kershaw, Lance Lynn, Wade Miley, Stephen Strasburg

---
Better relief pitchers?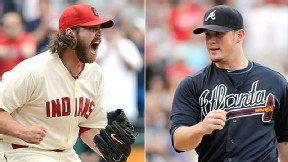 AL: Ryan Cook, Jim Johnson, Joe Nathan, Chris Perez, Fernando Rodney

NL: Aroldis Chapman, Joel Hanrahan, Craig Kimbrel, Jonathan Papelbon, Huston Street

---
Better infield reserves?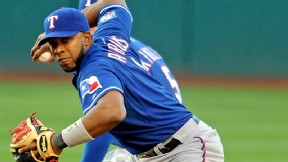 AL: Elvis Andrus, Asdrubal Cabrera, Miguel Cabrera, Ian Kinsler, Paul Konerko, Joe Mauer, Matt Wieters

NL: Jose Altuve, Starlin Castro, Ian Desmond, Bryan LaHair, Yadier Molina, Carlos Ruiz, David Wright

---
Better outfield reserves?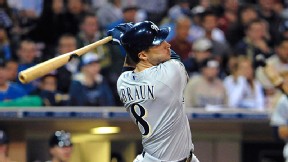 AL: Adam Jones, Mike Trout, Mark Trumbo

NL: Ryan Braun, Jay Bruce, Carlos Gonzalez, Andrew McCutchen, Giancarlo Stanton