Chad Ochocinco is starting anew in Miami with the Dolphins and apparently has plans to stick around for some time. The 34-year-old, six-time Pro Bowler told the South Florida Sun-Sentinel, "I'm going to play 'til I'm 40 years old, and this year I'm going to show the world I can." He also challenged teammate Clyde Gates, who posted a 4.31 40-yard dash prior to the 2011 NFL draft, to a race. Would Ochocinco stand a chance against the young speedster? Are his dreams of playing in 2018 a reach? Cast your votes.
---
Still gas left in the tank?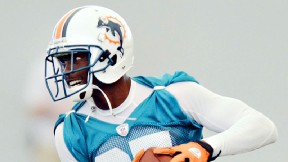 Chad Ochocinco had a forgettable season last year in New England, but it was only three years ago he put up 1,000 yards and nine touchdowns.

---
Ready, set, go!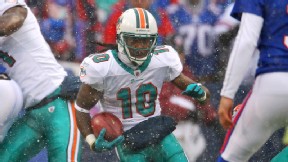 Clyde Gates hasn't had many chances to show off his speed thus far in the NFL (2 receptions, 19 yards), but would he shine vs. Ochocinco?