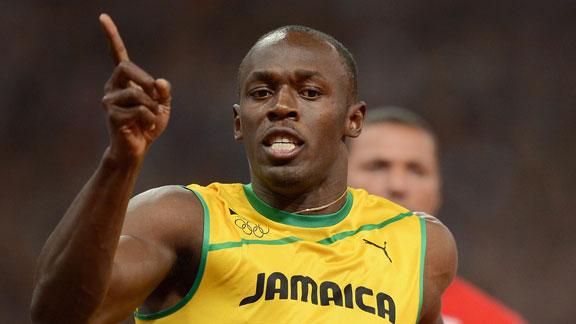 Usain Bolt is the fastest man in the world, but now he wants a tryout for one of the best soccer teams in the world. We're not sure Bolt could crack Manchester United's starting lineup, but could he make it in professional soccer?
SRider86: "His skill would translate much better for American football (WR) than soccer."
PatsCeltsSox111: "Imagine him as a sub in the 80th minute. The defense is tired and Man U sends in the fastest man in the world. If he has any skill this could work out great."
Seamus Dantes: "If he has any skill whatsoever ( meaning he can trap and accurately shoot a ball past a keeper) then he'd be a great substitution in soccer. There is no offside trap that can stop him because he can be level with a defender....and beat ANYONE...ESPECIALLY SLOW DEFENDERS....to the through ball...if he can beat keepers consistently, he'd be awesome."
natekogut: "i highly doubt he has the finesse or soft touch needed to consistently play well in the EPL... All he could really do is make long diagonal runs to open up space for the attack, or try to break through the defense on through balls. I don't see how he can worry this much about training to be the fastest man in the world for 2 olympics straight, and still have the skill needed with a ball to be successful."
GoldofCroesus: "It's funny when an athlete in one sports believes he can excel at another. There's so many qualities required for football (the world version as well as the American). Making quick cuts to avoid tackles. Dribbling, passing, or shooting the ball with any semblance of timing. Does he understand strategy and have an instinct for the game? How does he react the first time he gets knocked down or has his legs taken out? "



Join the conversation or respond by signing in or creating a profile and blogging.