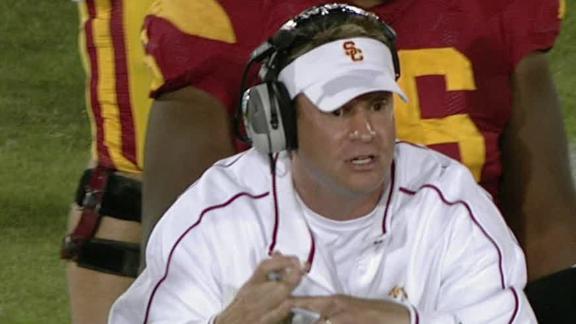 Pac-12 commissioner Larry Scott believes it's unfair to expect coaches to vote objectively in a poll that helps determine college football's national champion. Scott, in an interview on 710 ESPN Los Angeles, defended USC coach Lane Kiffin's decision to withdraw from the coaches' poll and said it's a "fallacy" to expect coaches to vote objectively or carve time out of their own game preparations to properly select the Top 25. Should the coaches' poll be part of the formula that determines the sport's No. 1 team?
pesik12: "its a lose lose situation...coaches poll: the coaches aren't watching the games ..computer polls: they aren't accurate enough....ap poll: they only vote for teams on tv and alot don't know about football. someone has to decide who plays."
cgoodwin711: "Yes it maybe a popularity contest and coaches are not really objective in their voting.. But what else is the commissioner of a conference that has one maybe two consistent good teams suppose to say?"
floriduck: "And Larry Scott is correct. It is a popularity contest with coaches supporting their own teams and their conference teams."
fun sponge33: "a full 8 or 16 team playoff would negate any bias in the coaches/writers polls.... and a true undisputed national champion will be crowned... "
iffiys back: "This is same thing Petersen of BSU stated last fall on tv and caught flak for. But their right, coaches vote their teams higher because thats what the other coaches do. Not a Pac 12 fan but they shouldnt give up their vote in this day and age. No sense giving the other big 3 conferences an edge for bcs or nc game."



Join the conversation or respond by signing in or creating a profile and blogging.