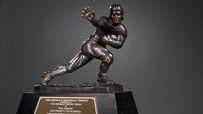 Who will hoist the Heisman Trophy?
Seven quarterbacks were named to ESPN's preseason Heisman Watch including USC's Matt Barkley who claimed 13 of the 15 first place votes from our stable of college football experts. Wisconsin running back Montee Ball, the lone returning Heisman finalist from a year ago, was the experts' next pick.
It's time for you, SportsNation, to put the candidates in the order you see fit. Simply click the photos to begin.
Conference team rankings: ACC | Big 12 | Big East | Big Ten | Pac-12 | SEC
Player rankings: ACC | Big 12 | Big East | Big Ten | Pac-12 | SEC
More: SportsNation's top 25 | Conference rankings | Your predictions


2012 Heisman Watch

Montee Ball


Matt Barkley


Jadeveon Clowney

Jadeveon Clowney
South Carolina DE

Landry Jones


Marcus Lattimore

Marcus Lattimore
South Carolina RB

EJ Manuel

EJ Manuel
Florida State QB

Aaron Murray


Denard Robinson

Denard Robinson
Michigan QB

Geno Smith

Geno Smith
West Virginia QB

De'Anthony Thomas

De'Anthony Thomas
Oregon RB

Tyler Wilson


Robert Woods

Your Rankings
1.

2.

3.

4.

5.

6.

7.

8.

9.

10.

11.

12.