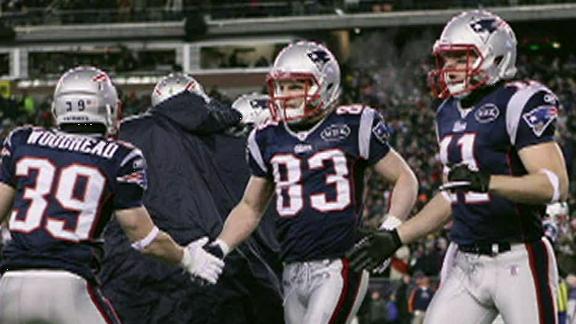 The Patriots have signed Aaron Hernandez to a long-term deal, notably before they gave Wes Welker anything of the sort. Welker has been Tom Brady's primary target in recent years, but is this a sign that he has been moved down the receiver heirarchy?
x_Boston_x: "Congrats to Hernandez... Sorry for Welker... He's a class act and put in all the work, then signs the tender hoping it would get something going for him and then just to be slapped in the face... I hope he still plays his heart out, Welker and Brady should retire together and go down as the best QB/WR tandem."
teamjordan2345: "Just as Randy Moss learned, Wes Welker will too. The writing is on the wall; he's not going to get the contract he wants in NE. The youth movement has begun."
wrigleyfield123: "can't stand the patriots, but they will redefine the TE position over the next couple of years with these two. And they are hard core, won't give welker an extension but will to both of their young TE in the same year."
Khanivore: "Hernandez is a much better player than Welker so of course we pay him and jopefully trade Welker or let him walk somewhere else. Not a huge market for short and slow WR's who specialize is short yardage passes."
farnsworthcollinstruffle: "Welker is and has been a consumate professional. That being said, his value isn't as high if he leaves the Patriots and both the Patriots and every other team in the league know this, hence the fact that Welker signed the tender."

Join the conversation or respond by signing in or creating a profile and blogging.