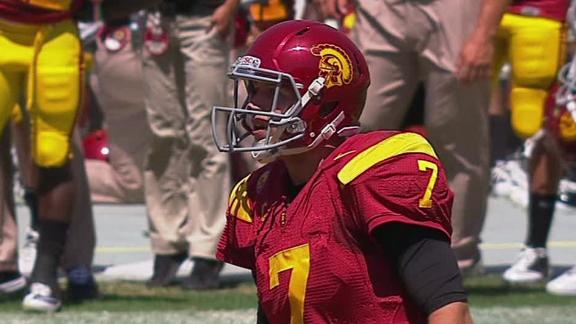 There were some hurt feelings and more than a few complaints on message boards when a billboard featuring USC quarterback Matt Barkley popped up a few blocks from UCLA's campus a week ago, adding a new chapter to the schools' LA rivalry. Now, it's become a mystery: The billboard, carrying the slogan "We Play To Finish," has suddenly vanished. No one is taking the credit (or the blame) for its disappearance. Both schools denied having anything to do with the situation. Was it taken down legitimately or vandalized? And for sheer nerve, does this exceed the "Blueprint for Greatness" billboard featuring Nets owner Mikhail Prokhorov and Jay-Z that emerged next to Madison Square Garden in 2010?
oneson007: "Fight on, USC owns LA, until the Bruins step up, it's SC all day every in LA."
Tribute2Troy13: "Awww ... USC's probably just switching it out with a "50-0" billboard."
Mox582:"Hmmm.....wouldn't this be exactly the same as if the Clippers got upset that there is predominately Lakers stuff all over the place? Obviously one program is the bigger show in town."
GoCorndogs89: "UCLA should put up a sign near USC's campus that says "43-22 to an unranked team. lol."
Moosealbany: "It is of this type of stuff that rivalries are made. I have no horse in this race as the saying goes because I am an Oregon fan. But putting that billboard up in Westwood is a beautifully dastardly move. Kickoff is coming. Yay...."
Canalejas: "Good people of SoCal: If you find the choice between USC and UCLA uninspiring, I invite you to take a look north, at Stanford. After all, the Cardinal has beaten both LA teams for the past three years. And, well, we could always use more fans. Seriously, we need fans."



Join the conversation or respond by signing in or creating a profile and blogging.