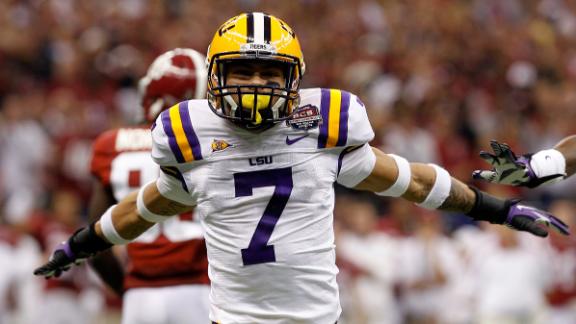 Tyrann Mathieu will enroll in classes at LSU on Tuesday, according to his adoptive father. Will we see Mathieu in LSU colors again someday?
jimjam1234: "This is an unprecedented move and to me an unprecedented show of character from Mathieu. Whether he enters the NFL next year or gets another shot at playing for LSU I think this young man has shown that he has his priorities in order and he has really addressed his problems. Going to an FCS school and playing would've been taking the easy way out."
Henry Rutabega: "Now he's going to have to learn what it's like to be a 'regular student' without all the benefits of being a god on campus."
bukizerule: "All I know is that 30 days in rehab means little other than a decent start. One year sober and he has accomplished something. As positive as this may look now, he may just be 'going along' with moves that can get him back on the team and Lord knows how eager LSU (and any team for that matter) is to get him back on their field."
MrBdo: "Really? He's that much better to where he can come back to school so soon. Doesn't sound like a life change. Sounds like a career decision."
shdwbxr72: "I kinda hope he sits out this year and then plays his Senior year out. Unleashing a kid with off center priorities to the NFL and that money leads to another Dez Bryant."

Join the conversation or respond by signing in or creating a profile and blogging.