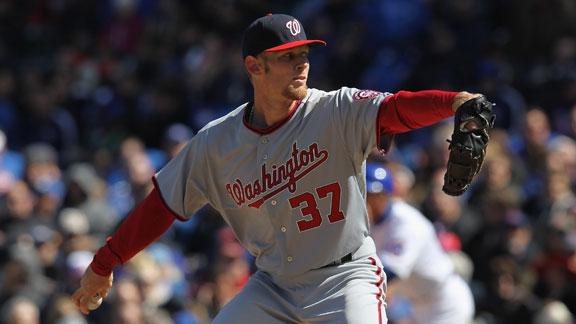 The Nationals said they would shut down right-hander Stephen Strasburg for the season once he reached about 160 innings. They made good on their word Saturday, ending Strasburg's season a day after he allowed five runs in a three-inning start against the Marlins. Washington maintained all along they would protect their 24-year-old in his first season back from Tommy John surgery, even as the first-place Nats closed in on the playoffs. But manager Davey Johnson said the mental side of the impending shutdown was affecting Strasburg the most. Did the Nationals make the right decision?
posselts2007: "Mark it down. The Nationals will never win a World Series. They are assuming they have the makings of a consistent contender. Not so. They should have planned Strasburg's innings count more long-term, with the postseason in mind. Failure on management's part, which will cost them dearly now and in the future. Baseball is fickle. They may never sniff a season like this again for a long time."
cwashington79: " 'Johnson said it was clear that his head wasn't in the game' ... I wonder why?!."
eelderbroom: "He has struggled of late and hammered twice by Miami. Time to shut it down - good move."
baseballfootball155: "They should have handled the whole thing better. Agree with limiting him but not the way they did it."
jkess56: "There are enough distractions without your own team adding a huge one. If this was the plan, they should have kept it quiet so that Strasburg didn't have to spend the last 2 months answering the same questions over and over again. He pitched every game like it was Game 7 in an effort to convince this Mickey Mouse franchise that they should let him see this through. The Nats spent more time in his head than his opposition."



Join the conversation or respond by signing in or creating a profile and blogging.