September 10, 2012
Sep
10
If you want to win at football, you've got to stop the other guys. Sometimes, that's easier said than done. Auburn and Miami's defensive units found themselves on the wrong end of the buzz saw on Saturday, while the scoreboard strained to keep up with Maryland and Temple's offenses. Which of these teams' defensive units had the most difficult day?
---
Dog day afternoon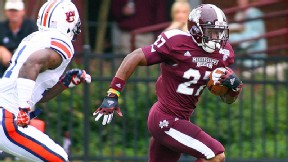 Five turnovers didn't help matters for Auburn. But neither did allowing Mississippi State to go on second-half scoring drives of 75, 58 and 62 yards.

---
It don't come easy
Penn State led Virginia 16-10 in the fourth quarter, only to watch victory slip away. Can the Nittany Lions get back to .500 against Navy and Temple?

---
Tropical depression
Kansas State's Collin Klein threw for 210 yards and ran for three scores, as Miami's defense gave up 52 points and 499 yards of offense. Hurricanes alum Ray Lewis can't be happy about this.