The Yankees and the Orioles find themselves tied again atop the AL East, but not without controversy. Mark Teixeira appeared to be safe diving into first base on the game-ending play. Had he been called safe, the Yankees would've tied the game. Instead, they fell back into a tie with the Orioles, with the Rays looming just two games back. Still, it wasn't all good news for Baltimore. Can the O's survive the injury to Nick Markakis? And does baseball need expanded replay?
---
Out At First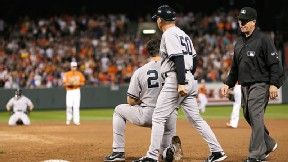 Mark Teixeira was called out on a controversial play to end the Yankees' loss to the Orioles. Would instant replay have saved the day for New York?

---
Thumbs Down
Nick Markakis broke his thumb in the win over the Yankees and is expected to miss the next six weeks, putting a dent in Baltimore's playoff hopes.

---
Off The Mark
Adding injury to insult, Mark Teixeira will be out until at least Friday with an injured left calf, and could miss the remainder of the regular season.