September 13, 2012
Sep
13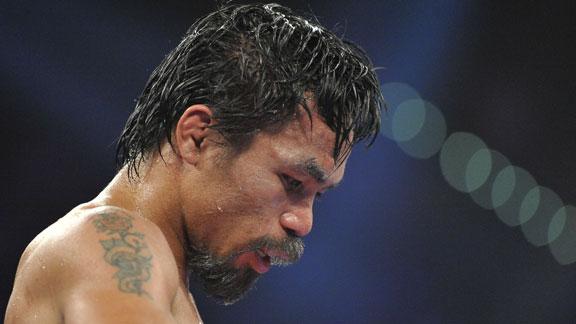 Instead of trying to avenge his loss against Timothy Bradley Jr. (or finally engage with Floyd Mayweather Jr. in the ring), Manny Pacquiao likely will fight Juan Manuel Marquez. Pacquiao is 2-0-1 against Marquez, although the result of each matchup was hotly contested. Will Marquez redeem himself?
---
Mayweather vs. Pacquiao?
Floyd Mayweather Jr. and Manny Pacquiao still haven't fought, leading many to wonder if they ever will.

Laura87591: "And suddenly we're in ANOTHER CARTOON. It's bad enough we had to sit thru the animation of Bradley being a legit contender for Manny and now this."
SupaFlySlammaJammazz...: "It's going to be another close fight. If Manny doesn't get back to his tenacious self, try and finish Marquez and look impressive, his mainstream appeal will dip further and will not be much of an attraction as he once was."
Derrick Ackbar Ford The Champ: " It's a HORRIBLE fight. Like Harry Potter episode 26."
8taggs2280: "Why, Manny?! You have NOTHING to gain with this fight. I lost some respect here.... Manny could have beat Bradley for revenge -- even if Manny beats Marquez, there is nothing to gain. Very unsatisfying to see this as a boxing fan."
n1que olajuwon ewing: "The 3rd one was an exciting, all-action fight that was decided in the championship rounds. A good fight is a good fight. Too many headline readers hating on this."

Join the conversation or respond by signing in or creating a profile and blogging.