September 15, 2012
Sep
15
Louisiana-Monroe did it again -- almost. For the second week in a row, the Warhawks of the Sun Belt Conference came back from a fourth-quarter deficit -- on the road, in an SEC opponent's stadium -- to force overtime. But the magic that helped ULM upset then-No. 8 Arkansas last week ran out Saturday against Auburn, as the Tigers held on for the win. Does ULM deserve credit for nearly pulling off back-to-back stunners? Do this season's early upsets tell us anything about the state of college football?
---
Double trouble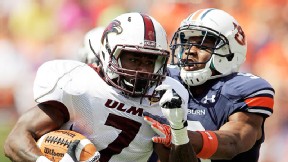 Jyruss Edwards and Louisiana-Monroe of the Sun Belt pulled off one upset and nearly made it two. Are the Warhawks worthy of respect?

---
Cinderella reunion tour
MAC and Sun Belt teams aren't supposed to stroll into Big Ten and SEC stadiums and win. Someone forgot to tell Ohio U. and UML. Is the talent gap narrowing? Or is the recent run of upsets a coincidence?

---
Tigers' tale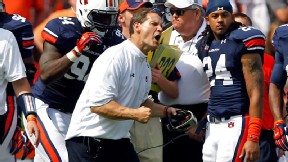 A deflected field goal in OT saved Auburn from an 0-3 start. Time for a sigh of relief? Not with LSU coming to town next week.