It's never a good sign when your franchise quarterback is benched for Kyle Orton. Admittedly, by that point in the Cowboys' loss to the Bears, the game was well out of hand, but it's still a bad look. Tony Romo's first half was decent enough, but things fell apart in the second -- he totaled five interceptions on the night and destroyed any chances the Cowboys had of coming back. You have to expect these types of games from Romo every once in a while, but we doubt that Jerry Jones is that patient. A bad game is a bad game, but five interceptions is a total disaster.
---
Romo's quality?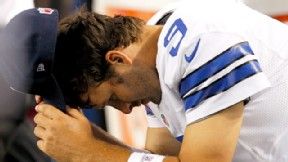 Tony Romo has occasionally inched his way into the discussion of the top quarterbacks in the league, but this game gives him a long way to go to get back to elite status.

---
Bryant's fault?
Dez Bryant is the Cowboys' star receiver, but his main contribution to last night's game was dropped passes and badly run routes.