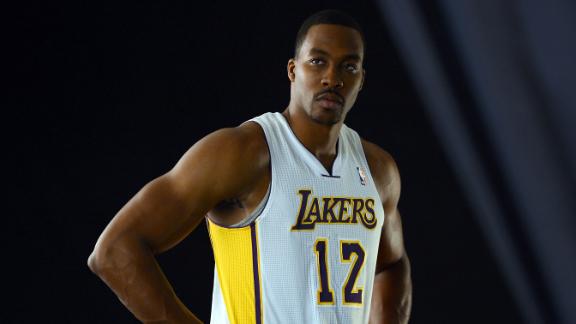 Are the Shaqtus' barbs getting under Dwight Howard's skin? The Lakers' newest center fired back at Shaquille O'Neal on Thursday after O'Neal claimed Andrew Bynum and Brook Lopez are the NBA's best true big men. Howard said he doesn't care what Shaq thinks. But then again, Howard also questioned why the center-turned-TNT-analyst is "talking trash" about his game. While guessing at Shaq's motivation is a fascinating parlor game, there's another question to consider: Should Howard reply to Shaq's criticism? Or should he ignore it?
RobbMaxx11:"He obviously cares, or wouldnt have gone to so much trouble to continually tell Shaq what he thought"
Lorenza0285:"As much as I respect Shaq...his comments are quite immature. Surprisingly, Howard's comments are mature...and right...props to the man."
MoneyNeverSleeps2008:"Brook Lopez, better than Howard? Time to pull Shaq's analyst card. He has no credibility."
zonex74:"I like Shaq, but his comment of saying Lopez and Bynum are better is clearly sour grapes asnd a shot at Howard considering they been beefin for a min. He really needs to let that go."
Grown Man Talk:"I'm not the least bit surprised at Shaq. I have great love for him and what he did for LA but he has always been a baby. He's blasted so many ex-teammates and ex-coaches that it's mind boggling. Don't worry too much Dwight, you can ask several members of the Lakers about how Shaq blasted them. Ask Nash, Kobe, Jamison, Gary Vitti, Mitch Kupchak, Dr. Buss, Jim Buss, Rambis & Mike Brown. They have all been fired upon by the Diesel."
NEWB33:"Just when I thought Dwight couldn't lower my opinion of him. Shaq is paid now to say what he thinks. Former players get those jobs. It is not his job to coddle Dwight and tell him he's the best if he doesn't think he is. I think Shaq's wrong, but it doesn't take away both his right to an opinion and the fact that it's his job. Can you please just play basketball and keep your mouth shut Dwight. You got out of Orlando. Your act is old and played. Can't believe I used to like you."
McMahonPat:"Dwight Howard will be a great center someday but right now he needs to toughend up and stop worring about what people say about him."


Join the conversation or respond by signing in or creating a profile and blogging.