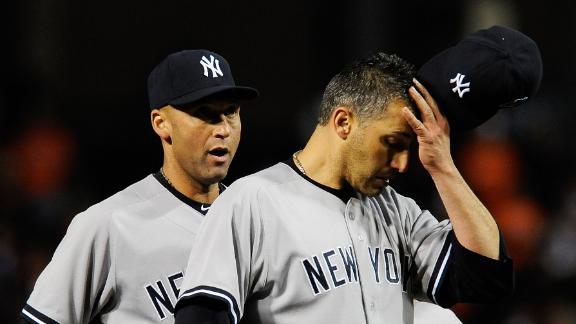 Alex Rodriguez has been struggling in the Orioles-Yankees division series, leading some to suggest that he should be dropped a few spots in the lineup. Joe Girardi says he has no plans to do so, but would this help New York prevail?
---
Which team wins?
The Orioles have challenged the Yankees all season long, but can they finish the job this time?


ivanmax1313: "Making a move like that puts your job in jeopardy. Girardi is not moving his highest paid player down in the lineup. Although he should"
CodyNew York: "Girardi wants A-Rod in front of Cano because he knows it is the only chance pitchers will actually throw strikes to A-Rod. If you move A-Rod to 6th or 7th he will strike out three times a game."
BamTimo: "It's not even a question to bat A-Rod down in the lineup. In fact, you could make a good argument he should bat 6 or 7 vs. lefties and sit him vs. righties in favor of Chavez. "
MexiRoll6: "A-Rod clearly does not have a quick bat anymore and is not selective of pitches, striking out on inside breaking balls. Eric Chavez and Nunez give the Yanks a better chance, and though Alex is playing solid defensively at third, you can't have a gaping hole in the middle of your lineup that whiffs with men on base."
tshaq21: "Couldnt agree more. I was watching the game with yankee fans and all of them were positive he was going to strike out in the 9th. They were just hoping for a walk!"

Join the conversation or respond by signing in or creating a profile and blogging.