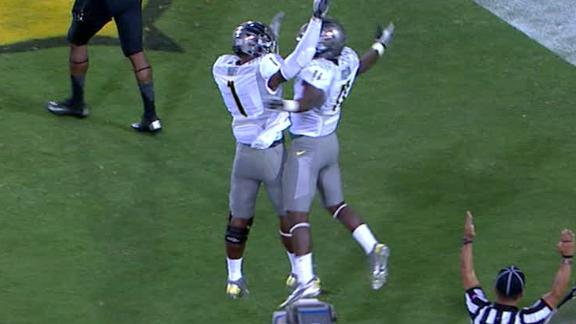 Oregon took care of business on Thursday night, routing Arizona State 43-21. But in a sport where style points matter, did the Ducks take their foot off the gas pedal too soon? Leading 43-7 at halftime, Oregon coach Chip Kelly decided to rest his starters in the second half, and the Ducks went scoreless the rest of the way. Did Kelly make the right call, or did he miss an opportunity? Discuss and vote below.
---
Why stop now?
Would an equally impressive second half have helped the team's cause for a No. 2 ranking or did the first half statement say enough?

seangjerde: "I think Chip is actually not showing his entire playbook. I think he learned from those early bowl losses that the other team has a month to prepare, and they go through all your games and they know what your going to run. Chip has been playing it really conservative this year, these games could have all been bigger blow outs."
JWBOSMAN: "If I was a voter, I would vote DOWN Oregon after this game. Sure it was 43-7 with 12 minutes left to go in the game. But no points in the next 2.5 quarters. Come on - I didn't expect 100-14, but I thought Oregon would have put 60-70 on ASU."
garnold37: "Classy move by Kelly to call off the dogs. They could have scored 70. Definitely needs to keep playing scrubs in the second half. They need the work. Kind of what Alabama does in similar games. Oregon is VERY good and likely headed for a showdown with Alabama. Remember, ASU is very slow defensively and Oregon's system relies on beating opponents 1-on-1 in open space. Hard to do against fast defensive teams like Alabama. It will be a great match-up. Hope it happens."
fs_tide2: "Newfound respect for Kelly. Oregon could have easily hung 90 or 100 on ASU if not for him taking his foot off the gas. Still no respect at all for Pac 12 defenses."
cyballer32: "Was hoping we would run up the score just to make a statement. You could tell we werent running all of our offense once the score got out of hand! Hey but either way we got the W!"


Join the conversation or respond by signing in or creating a profile and blogging.