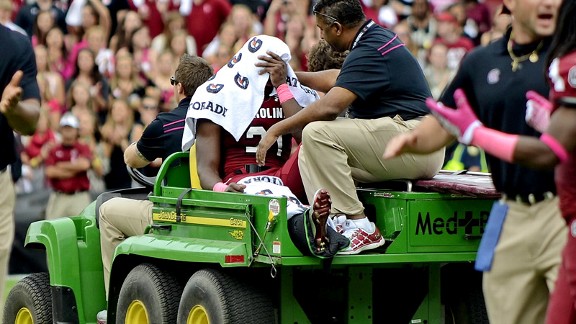 If you've seen the video of Marcus Lattimore's leg injury, you know why people are talking about how bad it looked. If you haven't: It's not for everyone. (Note: Link goes to story with video of injury.) Athletes, coaches and commentators are wishing the South Carolina running back the best and hoping he can do what Willis McGahee did: come back from a serious injury in college to play in the NFL.
On Twitter:
Just want to send my thoughts out to Marcus lattimore. Hope you are doing ok. #youllcomebackstronger

— Abby Wambach (@AbbyWambach) October 27, 2012
We are warriors on the field, but are human as well. I pray everyone sends prayers forth for Marcus Lattimore & others that are injured

— Robert Griffin III (@RGIII) October 27, 2012
Praying for Marcus Lattimore. Hate to see the best RB in college go down. Keep ya head up my man!

— DeMarco Murray (@DeMarcoMurray) October 27, 2012
So sad to see the injury to Marcus Lattimore. Strong kid! We wish him well in recovery.

— Les Miles (@LSUCoachMiles) October 27, 2012
Never seen players from BOTH teams respond to an injury like this...Tennessee players crying for him as well

— Kirk Herbstreit (@KirkHerbstreit) October 27, 2012
On SportsNation:
yes im a seahawk fan: "If willis mcgahee could come back, then this guy definitely can. you can do it marcus!"
Joshman1809: "Die hard Dawgs fan, and brother is a Vols fan, and this about broke my heart. Such a great player, sucks to see him go out like that. Here's hoping for a full recovery and a wonderful career in the NFL. Good Luck Marcus"
strongisland06: "I've seen Theisman's injury, McGahee's injury. And this one had me look the other way when it happened."
briandeal9: "Great game UT, I thought you guys were gonna pull it out but more importantly, we really appreciate your teams tremendous show of class and respect for Marcus. He is a tremendous young man and we pray that he'll make a strong recovery. Thanks Vols."
G8erMike: "What a blow for this kid and the team. Thats two bad knee injuries in as many years. I hope its not as bad as it looks. Hes a great player"


Join the conversation or follow us @ESPN