Georgia's 17-9 win over Florida wasn't pretty. No game with nine total turnovers and 227 combined penalty yards qualifies for best in show, let alone a beauty pageant. But beauty is in the eye of the beholder. And the Dawgs' stout defensive effort, led by Jarvis Jones' 13 tackles and two forced fumbles, was a work of art for their fans. Did Georgia win this game with defense? Or did Florida give it away by turning the ball over six times?
---
Chomp on this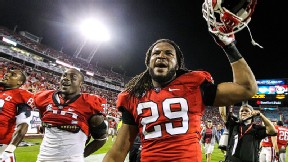 Playing Florida brings out the best in Jarvis Jones, whose late-game strip of the Gators' Jordan Reed saved the win for Georgia.

---
See you later, alligator?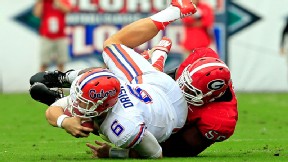 A week ago, the Gators were on top of the SEC East and headed for No. 2 in the BCS standings. The door isn't closed on their BCS title hopes, but those hopes just got slimmer.

---
Why not us?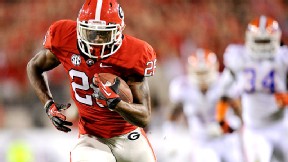 Speaking of one-loss teams' BCS chances, what about the Bulldogs? They can win the SEC East with a win over Ole Miss next week.

• os3psych: "Tempting to taunt the Gator faithful who boldly predicted a UF blowout. But let's not go there- great win for the Dawgs, especially Aaron Murray who didn't play his best but threw the pass to Mitchell that put the game away. And kudos to Shawn Williams who called the D out and inspired them to man up. Finally, JARVIS JONES!"

Ricardo 1965: "The Gators gave it away with all the penalties, turnovers and mistakes. Can't really say Ga. won this game, as much as Fla. lost it."
keebofrito: "Ugly but awesome that the defense to show up.decided Big win.GO DAWGS"
bentcross: "I truly thought we would have been blown out of this game; hats off to you mr williams. It was also good to see grantham get mean again. Ugly game but i will take it. Go dawgs."


Join the conversation or respond by signing in or creating a profile and blogging.