One label that has never been put on Michael Jordan is "quitter" and he doesn't intend to earn it now. The legendary player turned lame-duck owner, who watched his Charlotte Bobcats enter the record books last season for winning just seven games, recently vowed that he is "in it for the long haul" and is intent on turning the Bobcats into winners.
---
Brighter days ahead?
"It's hard for me to make that suggestion of two or three years we're going to be in the playoffs," says Jordan. "I hope we are."

---
Nowhere to go but up?
The Bobcats hit rock bottom last year with a record-worst .106 winning percentage. Will a new coach and new players do the trick?

---
Who will step up?
Haywood, Gordon and Sessions bring a combined 94 postseason games played, while coach Mike Dunlap is a first-time NBA head coach.

---
Does losing leave a mark?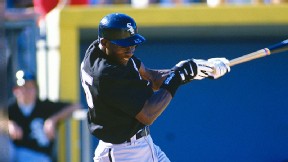 Michael Jordan's baseball career wasn't a total bust. He did hit three homers. But he also hit .202 and struck out 114 times in 436 at-bats.