The Marlins are having a fire sale -- again. Just a year after making a big splash in free agency and moving into a new, taxpayer-funded stadium, Miami is set to trade Jose Reyes, Mark Buehrle and Josh Johnson to the Blue Jays in exchange for little more than salary relief. Can a baseball team compete with a low payroll? And is it time for Major League Baseball to do something about the ownership situation in Miami?
---
South Florida success?
The Marlins opened a new stadium in 2012, but as the season went on, it had plenty of empty seats.

---
Do dollars equal wins?
The "Moneyball" A's had some success, but it can still be hard for low-spending teams to compete.

---
Get the paper bags ready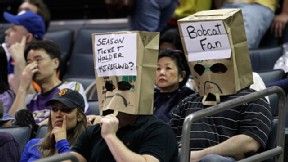 The seven-win Bobcats were hard to watch last year. Is bad basketball worse than bad baseball?

---
Baseball in Florida
The Marlins and Rays have been to three World Series, but have struggled to build a fanbase.

---
Worst owner in sports?
Jeffrey Loria has held multiple Marlins' firesales. Does that make him the worst owner in sports?