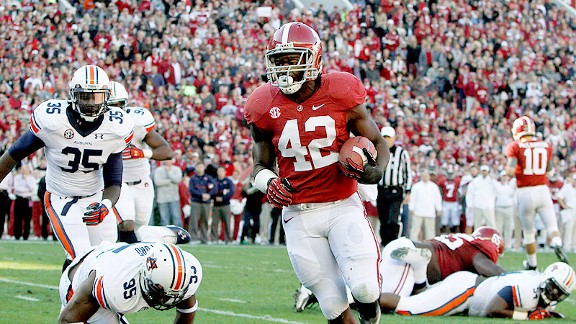 Major college football won't get a playoff until the 2014 season, but next Saturday's SEC championship game between Alabama and Georgia at Atlanta's Georgia Dome will carry that kind of anticipation and pressure. Each team has one defeat, and a second would all but certainly knock the loser out of the running for the BCS title game. Will the defending champion Crimson Tide punch their ticket to Miami? Or will the Bulldogs spoil Alabama's dreams of a repeat?
75gary5655: "AJ McCarron looks to be back in championship form again. Hope we can get Bell back at WR."
BravesDawgsFalcons: "I'm excited for next Saturday, but I can't lie, I'm scared to play Bama lol."
bamaslamma009: "Murray will have to beat us with the passing game....Gurley and Marshall will be mirrored all night....When our D is playing Zone they are pretty vulnerable at the 10-15 yrd range plays.Those plays are the ones that are worrying me for next week. For the Most part Bama will have UGA's O on lockdown...If UGA pulls out the win it wont be but by a very small margin. There will be no domination....it will be one or two big plays(either way) that decide the outcome."
mbsIV: "As a new member to the SEC, I'm glad to be in this conference. I *do* think the rooting for the conference as a whole goes a bit overboard, though. All that said, the winner of the Alabama/Georgia title game is going to destroy whoever they play in the BCS title game, I think. I'll admit, I'm going to enjoy it."
nugent1021: "looking forward to Alabama showing just how bad Georgia really is. Ruff Ruff, fools."
ReedDawg93: "Glad to play someone other than LSU in the SECCG. Good win guys and Go Dawgs!"


Join the conversation or respond by signing in or creating a profile and blogging.