Maybe the Knicks were on to something during their weird offseason. Letting Jeremy Lin go might have made the fan base less-than-thrilled, but it hasn't seemed to have affected the Knicks all that much -- they're on top of the Eastern Conference and enjoyed a decisive victory over the Miami Heat. The best part? They beat the Heat even without Carmelo Anthony, hitting 18 three-pointers in the process. It's still early in the season, but it looks like everyone who wrote off the Knicks might have some apologies to make.
---
Title contenders?
The Knicks haven't been to a championship in years, but that all could change if they keep up their hot start.

---
A playoff preview?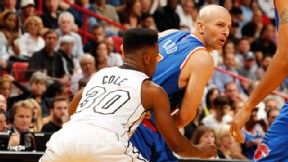 New York's offense is nearly as good as Miami's, but the Knicks are giving up almost six fewer points per game.

---
Heat's losing streak?
The Heat still are expected to make the playoffs, but back-to-back losses to the Wizards and Knicks can't feel good.