In a year that produced a surprising championship matchup and perhaps an even more surprising Heisman Trophy race, the choices for ESPN.com's All-America team feature a wide range of players, some surprising, and some to be expected. Which players are the best of the best and does the offensive team have an edge on the defensive team?
---
All-America quarterback?
Johnny Manziel may have been the first freshman to win the Heisman Trophy, but he wasn't the only quarterback to excel this season.

---
All-America running back?
Both Ball and Barner put up 21 rushing touchdowns; Ball had an advantage on total yards, while Barner rushed for more yards per carry.

---
All-America receiver?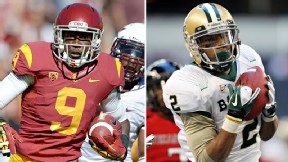 Lee and Williams both put up astonishing numbers -- in their best individual games, they combined for 659 yards and four touchdowns.

---
All-America coach?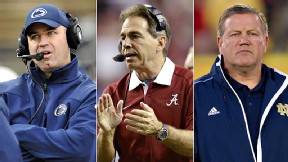 Nick Saban and Brian Kelly will be facing off in the national championship, but Bill O'Brien's job may have been more difficult: rescuing a tarnished Penn State program.