The Lakers' season-long struggles have made headlines. But look beyond the plot twists and turns of the "Showtime" soap opera and you'll see the West has produced some surprising success stories. The Clippers were expected to be improved, but 12 straight wins and the division lead have fans giddy in Lob City. Meanwhile, the Grizzlies are showing that perhaps last season's playoff success was no fluke. The Warriors have been boosted by the emergence of young stars. And the Timberwolves have stayed in the race despite early injuries. Which team will be left standing when the dust settles?
---
Making history
The Clippers have won 12 straight games, breaking a franchise record set in Bob McAdoo's glory days with the Buffalo Braves. Is this team finally a contender after years of misfortune?

---
Z-Bo Knows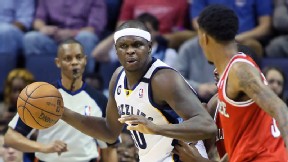 The Grizzlies are leading the league in defense (89.5 ppg allowed) and Zach Randolph is a double-double machine. Is this the team no one wants to face in the playoffs?

---
Rebirth by The Bay
Stephen Curry, David Lee and a slew of young stars have the Warriors out to their strongest start in years. Will Golden State stay in the race?

---
Call of the Wild
Now that the Wolves have both Ricky Rubio and Kevin Love in the lineup, does Minnesota have legit hopes of ending its long playoff drought?