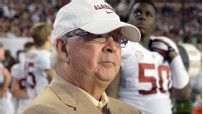 Andrews serves as the team doctor for, among others, the Rays, the Redskins, Auburn and Alabama.
Welcome to SportsNation! On Wednesday, we'll have world renowned surgeon Dr. James Andrews stopping by to chat about his new book "Any Given Monday: Sports Injuries and How to Prevent Them for Athletes, Parents, and Coaches."
In "Any Given Monday," Andrews uses his career of treating sports injuries, along with his work at the non-profit American Sports Medicine Institute, to educate parents and coaches of youth athletes on injury prevention and treatment.
Andrews, in an orthopaedic surgical career spanning more than 40 years, has been a pioneer in sports medicine. In addition to being the team doctor for several teams and schools, Andrews and his facility in Birmingham attracts athletes from all over the country in need of medical expertise.
Send your questions now and join Andrews Wednesday at 3 p.m. ET!
More Special Guests: More on Dr. Andrews | Previous chats | SportsNation