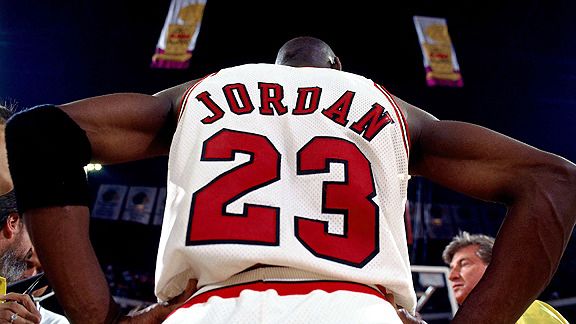 Andrew D. Bernstein/NBAE via Getty Images
To celebrate Michael Jordan's 50th birthday on Feb. 17, "SportsCenter" has put together 50 of MJ's greatest moments. From "The Flu Game" to "The Shrug," "SportsCenter" ranks Nos. 11-50, and you ranked the top 10!
Watch "SportsCenter" on Feb. 17 to see the debut of the full list of Michael Jordan's Top 50 greatest moments.


Rank 'em: MJ's top 10 moments

Final Shot With Bulls

Final Shot With Bulls
After separating himself from Utah's Bryon Russell, Jordan rose and nailed his final shot for the Bulls, clinching his sixth title on June 14, 1998.

63 Points vs. Celtics

63 Points vs. Celtics
After MJ scored 63 points on April 20, 1986 -- the most points by a player in a postseason game, a record that still stands -- Larry Bird said it was "God was disguised as Michael Jordan."

Change Hands Midair

Change Hands Midair
As he rose for a layup on June 5, 1991, Jordan switched the ball from his right hand to his left and scored against the Lakers in Game 2 of the Finals. The Bulls went on to win the first of six titles, all with Jordan.

1988 Dunk Title

1988 Dunk Title
Avenging a loss to Dominique Wilkins three years earlier, Jordan soared from the free throw line and won the 1988 slam dunk contest during All-Star Weekend at Chicago Stadium.

Flu Game

Flu Game
He was battling the flu and a 103-degree fever, but Jordan's 38 points in Game 5 of the 1997 NBA Finals gave the Bulls a 3-2 series edge against Utah. Coach Phil Jackson said it was the best performance he had seen. The Bulls won title No. 5 two days later.

Dunk Over Ewing

Dunk Over Ewing
Jordan's dunk over the Knicks' Patrick Ewing in Game 3 of the 1991 Eastern Conference first round not only became a legendary play, but it helped the Bulls get past their rivals and propel them to their first title.

The Shrug

The Shrug
Jordan set two records on June 30, 1992, when he scored 35 points in the first half and hit six 3-pointers in Game 1 of the Finals vs. Portland. The Bulls won 122-89 and Jordan finished with 39 points. After hitting his sixth 3-pointer, he shrugged, as if to say even he couldn't explain it.

Father's Day Title

Father's Day Title
He had retired from basketball after his father was murdered to pursue the baseball dream he shared with his dad. In his first full season back in the NBA, Jordan won his fourth title, on Father's Day 1996 in Chicago.

Leading UNC To Title

Leading UNC To Title
Jordan was just a freshman when he helped lead North Carolina past Georgetown to the 1982 NCAA championship title. He scored 16 points, including the game winner.

The Shot Over Ehlo

The Shot Over Ehlo
It became known simply as "The Shot." Jordan's buzzer-beater over Craig Ehlo in Game 5 of the 1989 Eastern Conference first-round series helped launch the legend of Jordan's clutch greatness. He finished that game with 44 points.
Your Rankings
1.

2.

3.

4.

5.

6.

7.

8.

9.

10.