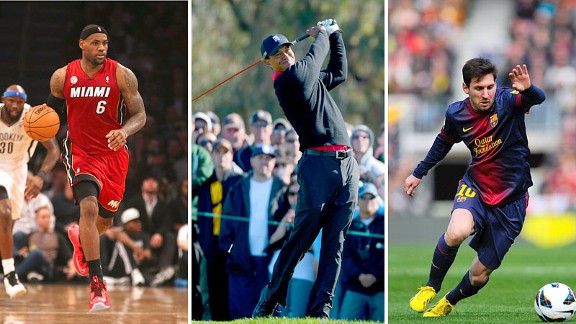 With so many all-time greats playing at such a high level right now, "SportsCenter" wants to know who you think is the biggest star in sports today. We've picked 10 of the best and now want SportsNation to narrow it down to five. Click on the images to rank the best of the best and tune in to "SportsCenter" Friday at 11 a.m. ET for the final debate.


Biggest stars in sports
LeBron James

LeBron James
Miami Heat
3-time NBA MVP
Kevin Durant

Kevin Durant
Oklahoma City Thunder
3-time NBA scoring champion
Lionel Messi

Lionel Messi
FC Barcelona
4-time FIFA World Player of the Year
Derek Jeter

Derek Jeter
New York Yankees
5-time World Series champion
Tiger Woods

Tiger Woods
PGA Tour
14 career major titles
Tom Brady

Tom Brady
New England Patriots
3-time Super Bowl winner, 2-time MVP

Robert Griffin III

Robert Griffin III
Washington Redskins
2012 Offensive Rookie of the Year
Roger Federer

Roger Federer
ATP Tour
17 career grand slam titles
Usain Bolt

Usain Bolt
Jamaica Track & Field
6 Olympic gold medals
Michael Phelps

Michael Phelps
USA Swimming
22 career Olympic medals (18 gold)
Your Rankings
1.

2.

3.

4.

5.

6.

7.

8.

9.

10.