With spring training about to open, Major League Baseball doesn't have an approved design in place for protective headgear for pitchers. Although officials aren't ruling out such equipment being ready for Opening Day, big questions still surround the effort: Will helmets or padding do enough to protect pitchers from the kind of impact that required emergency brain surgery for Athletics right-hander Brandon McCarthy last fall? And if such equipment is offered, will major league pitchers wear it?
---
Call to action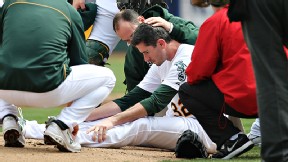 Brandon McCarthy's injury off a line drive sent him to the ER and opened up discussions on safety. Are padded caps or helmets for pitchers needed?

---
Ways to get hurt
Joba Chamberlain was forced out of a playoff game this past fall when part of a broken bat hit him in the shoulder. Are line drives through the box baseball's biggest safety issue?

---
Is it safe?
The Tigers' Doug Fister was hit in the head by a batted ball in the World Series but stayed in the game. Are pitchers safe enough?