Cowboys executive vice president Stephen Jones said the team wants to sign Tony Romo to a long-term deal because he's the key to making a championship run. But since Romo was named the starting quarterback in 2006, Dallas has made just three playoff appearances, two of which were one-and-done. Has Romo proved himself to be the man to guide this storied franchise to another Super Bowl appearance?
memphispost1: "Guess we won't be going to the super bowl anytime in the near future. Yet another brilliant move by Jerry Jones!"
ODENDAVID: "So hard to be a cowboy fan when you see stuff like this....Romo is not the answer."
Jared50147: "'romo is not the problem. the problem is the o line"
O Zone Pro.: "Dallas is about to do what? Lol, another 5 years will go by without any playoffs as long as Romo is QB."
PVN24: "Get Romo some protection, try to keep DeMarco healthy and involved, and I guarantee Romo takes this team deep in the playoffs"
Join the conversation or respond by signing in or creating a profile and blogging.
---
Worth the money?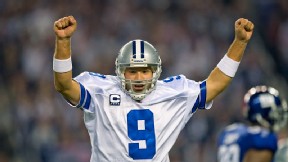 Tony Romo could command a three-to-five-year deal with an average salary of at least $12 million.