Several sports relationships are on the rocks this Valentine's Day. Sacramento's Kings are being courted by Seattle, the Redskins' mascot is fearful of being replaced and the Chiefs are willing to walk away from the No. 1 pick in the draft. Whether any of these relationships has what it takes to make it in the long run remains to be seen, but cast your votes and find out what SportsNation is predicting for the future.
---
Chiefs and No. 1 pick
Trading a No. 1 pick in the NFL draft is sometimes easier said than done, but the Chiefs have more holes than a Lance Armstrong PED denial.

---
Michael Vick and the Eagles
With 64 percent of the 'Nation predicting the Eagles wouldn't make the playoffs with Vick, one has to wonder if the Eagles will extend Vick's deal.

---
Wrestling and the Olympics
The words "uphill battle" have been bandied about in reference to wrestling trying to get back in the Olympics, but would you bet against wrestlers?

---
Sacramento and the Kings
A Seattle group has aggressively pursued the Kings and even filed for relocation, but Sacramento mayor Kevin Johnson isn't backing down anytime soon.

---
Dwight Howard and the Lakers
The big question in L.A. lately has been when Howard will get it going. If he doesn't get it going soon, he may be going somewhere else.

---
Kentucky and the NCAA tournament
With center Nerlens Noel out for the season after tearing his ACL, and just five weeks left to build their résumé, can the Wildcats stay in the field?

---
Washington and the Redskins name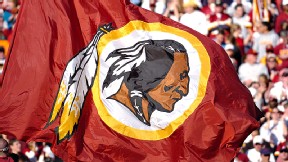 The long-running issue crept up again when the mayor of the District of Columbia said the name would be discussed if the team was to move from its current home in Landover, Md.