Tom Brady will be a New England Patriot for life. That wasn't really in question before Monday, but the three-time Super Bowl champ reportedly agreed to a three-year contract extension that keeps him with the only organization he's ever played for through the 2017 season. Brady also took less money in the deal, lowering his cap charge from a league-high $21.8 million to approximately $13.8 million in 2013. Can the Patriots now use the savings to surround Brady with a team capable of winning the Super Bowl for the first time since 2004?
Justlaugh1990: "Smart move on both sides, brady gets a good chance at getting what he needs to win it all, and the pats get a steal. I'd retire after winning atleast 2 superbowls between now and 2017 at a comfortable age 40."
nhraven5200: " Hes taking less because hes not worth big money anymore."
jclance777: "How about that Joe Flacco?"
WaxedBrain: "Never been a fan of Brady or the Patriots, but this is a class move to help an organization. He makes plenty off the field, so taking less on it to put a better team around him is awesome. I wish more athletes in his type of situation would do the same thing!"
Ray Finkle. 40: "Brady is the greatest system QB of all time (behind Joe Montana)"
Join the conversation or respond by signing in or creating a profile and blogging.
---
Leaving money on the table?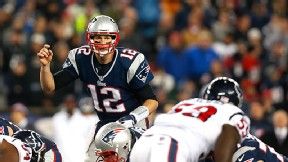 Tom Brady took less money to stay with New England in 2005, and he's doing it again, lowering his cap hit by about $8 million.

---
Brady or Flacco?
Joe Flacco was looking for "Tom Brady money" in free agency. But now "Tom Brady money" is a lot less than it was before Brady's new deal.