Storming the court after an upset win or a buzzer-beating victory over a rival school is as old as college basketball itself. But no one ever said it was smart or safe to launch hundreds of excited fans down an incline and into an enclosed space that already contains people. Following Duke's upset loss at Virginia and the subsequent court-storming, Blue Devils coach Mike Krzyzewski spoke out about the risks of an altercation between fans and the opposing team getting out of control. Does rushing the court need to stop before an end-of-game celebration turns ugly?
---
All fun and games?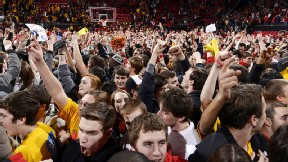 Duke has endured four court stormings this season, including this one at Maryland. Is the risk to fans and players alike worth these otherwise giddy moments?

l3enjam1n: "You don't have to like Coach K, not many people do... but he is a basketball genius, and he is right about this. Court rushing is done way too much, and it is dangerous for the players that lose. This is coming from a Maryland fan whose very team stormed on Duke not 2 weeks ago."
WisconsinWinner: "Here's the problem coach K: how are you going to control a mob of fans DEMANDING to get on the court as soon as the clock hits 0:00. There's nothing...read NOTHING you can do to stop HUNDREDS/THOUSANDS of people from rushing the court. If you're caught up in the fray for a few minutes afterwards, then dems da breaks when you lose to an inferior team on THEIR court.."
usnawolfie: "A bit ironic that Duke is talking about fans being threatening/inappropriate to opposition? That being said, he's right. Its a problem waiting to happen for NCAA."
gw687: "I'm torn. Rushing the court after a big win was the most fun game I went to as a college student. Wouldn't want any fan with that opportunity to not have it. However, Coach K's point is fair that it's a dangerous road for the losing squad b/c some of those fans rushing the court are, let's face it, stupid. I guess my solution would be to put security around the visiting bench and hall to the locker room as well as have a couple guards go grab the players on the court at the buzzer. It's fair to ask that we ensure all players can celebrate and/or get away."
Jrayt220: "The whole storm the court craze is ridiculous. Yeah I know it's been a common practice in college basketball for years, but it's gotten out of control.I mean, USC fans did it after beating Arizona.Good team to beat on your home floor sure,but No.11 in the country( 11- 5 in conf. play).Really? it's just dumb now."
twain2510: "Taking down the goalposts was a concern in college football, and that has basically come to a halt without any problems or fan outrage. Storming the court is dangerous and needs to end, act like you have been there before."
Otown407Soldier: "It won't be fixed until the events Coach K are talking about happens and a fan tries to sue the NCAA. They only care about their wallets."
What do you think? Leave your comments below.