It was all about streaks on Sunday afternoon. In the NHL, the Blackhawks extended their season-long run without a regulation loss to 22 games, eventually beating rival Detroit in the shootout. In the NBA, the streaking Heat were also facing a rival, and also used a late comeback to beat the Knicks for their 14th straight win. But which streak is more impressive? And will either come to an end this week? Cast your votes!
---
Can't lose in Chicago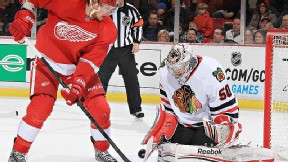 Corey Crawford has been a major part of the Blackhawks' hot start. They've now passed the midway point in this shortened season without a regulation loss, going 19-0-3.

---
Talent on display in South Beach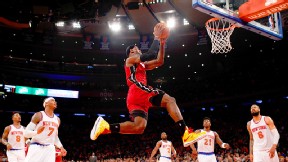 The Heat finally got the best of the Knicks after losing to them twice earlier this season, and now have gone a month without losing at all.