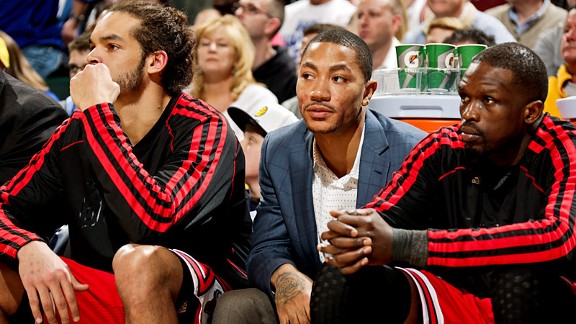 Bulls fans must have been heartened to see Derrick Rose in the arena for Sunday's game against the Pacers, even if he was only on the bench and wearing slacks and a blazer. This is Rose's first time on the bench with his teammates this season as he recovers from his ACL injury. Is this a sign that he's coming back sooner than expected?
VandyLC13: "Anyone else see that smirk DRose had on his face walking off the court when the Pacers were celebrating their W? Swear he was saying to himself 'enjoy it while it last'"
Double A 191: "Whenever he comes back, the key is for his teammates to not rely solely on him like they used to. Everyone has to step up so there isn't that much pressure on Rose to do everything."
NBAFrenchGuy: "You look at the Heat in 2010-2011, and you look at the Heat now, what a big difference!"
Bulls7106: "Rose was on the bench like 'I can't wait to play them in the playoffs'"
wcassassin106: "Nothing to do with Rose on the bench but I had predicted last December that Rose comes back between March 10 and March 20. I really hope I'm right, because I just don't see the Bulls easing him in during the playoffs. He needs a few games at least to come back. If its March 20 and D Rose isn't back, I'm afraid we will have to wait until next season."
ahamilton605: "So about Rose on the bench....my guess is he'll be back VERY SOON now. He was really getting into the game and wanting to be out there."
Join the conversation or respond by signing in or creating a profile and blogging.