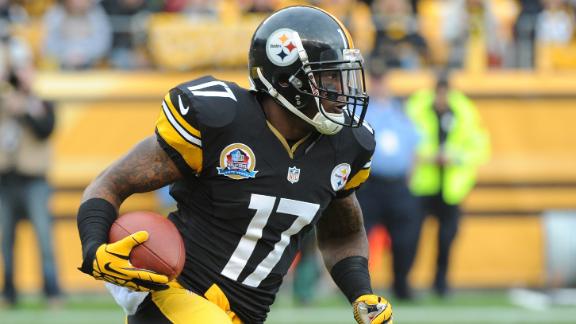 The Dolphins moved quickly when the NFL's 2013 free agency period opened, agreeing to terms with wide receiver Mike Wallace on a five-year, $65 million contract. Wallace has caught at least 60 passes in each of the last three seasons for the Steelers, topping the 1,000-yard mark in 2010 and 2011. He joins Brian Hartline and Davone Bess to make up a solid group of receivers in Miami. But is he worth the money?
BRavens979: "He will be irrelevant for years to come. Why trade Brandon Marshall and then overpay for a guy that is just pure speed?"
kilosurge: "All seriousness, it's a good signing. But it's a 'win now' signing. Miami probably isn't contending in the AFC for quite a while, so seems like this move is more about selling tickets. Gotta spend money to make money."
Hersheezy33: "I will miss Mike Wallace because you can't teach speed. But there is no way I pay him the kind of money he is asking and he doesn't even run good routes. He's a great deep ball threat but if you take that away from him he can't nickle and dime like receivers with "great" hands because great hands he has not! See Steelers in Superbowl (GB) last drive and tell me who drops the ball when we need it the most!"
sundevilpat14: "'He's a one trick pony.' The one trick you can't teach. Speed. You know he's fast, yet defenses still can't prepare for him. This guy is a game changer. Miami has been desperate for a player like this. Great move for the team, Hartline and Bess can be a lot more active with this addition. Ryan Tannehill to Mike Wallace for an 80 yard TD is going to be sweet music to my ears."
garnolfini: "Steelers should have paid Wallace last year. Now they have no threats on offense and a breakable QB. Tomlin on the hot seat already."
just3c77733: "Haha good luck Miami. Wallace is good, but he's not worth $13 mil per year. Santonio Holmes 2.0"
Join the conversation or respond by signing in or creating a profile and blogging.