It didn't take long for former Patriots wide receiver Wes Welker to find a new home. A day after free agency opened, the five-time Pro Bowler agreed to terms on a contract with the Broncos, leaving Tom Brady behind in New England and teaming up with Peyton Manning in Denver. Welker has topped the 100-catch mark five times in the past six seasons, so how will he fare in the Mile High City, catching passes from another future Hall of Famer?
---
Don't know what you got 'til it's gone?
Welker was the biggest constant in an ever-changing receiving corps for the Patriots.

---
Catching fire
Welker was a pass-catching machine in New England, racking up 672 receptions in six seasons.

---
Bang for the buck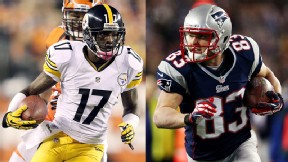 Mike Wallace got a big-money deal from the Dolphins, but his production has paled in comparison to Welker's.

---
Big names leaving Boston
What'll be harder for Boston fans: seeing a clean-shaven Kevin Youkilis in pinstripes or watching Welker catch passes from Manning?