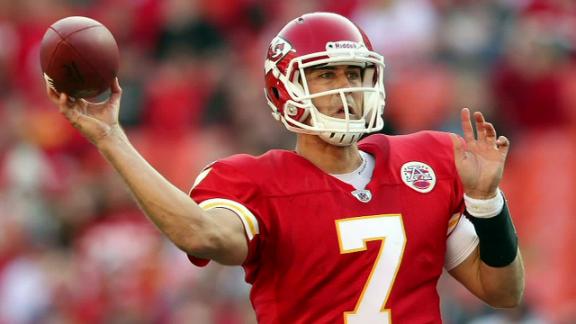 It's no surprise that the Chiefs released Matt Cassel after acquiring Alex Smith, but the move brings up all sorts of questions about Cassel's future. He excelled in his one season as the Patriots' starter, but struggled to reach those same heights during his time in Kansas City. Will he ever be a team's primary starter again?
jessepinkman_walterwhite: "Good riddance. I hated the big contract as soon as they gave it to him."
KCAC_slaterd: "The day has finally come! I applaud his effort, as do most Chiefs fans, but he couldn't get it done."
LuccadiPonza: "He had a terrible coach,. he did very well in NE, and under Healey. Cassell can;t carry a team, few can, but he can function under a good system."
RH936: "Life after new england is not sweet see josh McDaniel, Laurence mauroney, ben jarvis-green ellis, deion branch,randy moss and ocho. Adam Viniteri maybe. Oh dont forget weis and crennel."
AI2077: "Good call Andy,,,,,So far your making the moves to be a much better football team. Nice to see you having Passion for the game again."
grillo88: "The Matt Cassel era is officially over. The Alex Smith era begins. The Bad Re-tread QB era continues."
Join the conversation or respond by signing in or creating a profile and blogging.