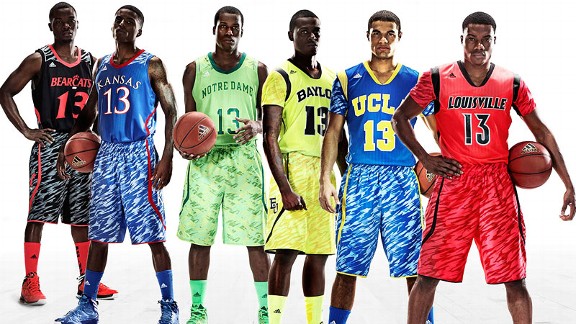 College basketball fans may have been wondering if something was wrong with their plasma TVs during Championship Week, as multiple teams ventured away from their traditional uniform looks to debut what Uni Watch's Paul Lukas called the "Fruit Stripe" uniforms. The wild, multi-color shorts continued a trend in college sports, where schools are ditching their old duds for more eye-catching looks. What did you think of them?
---
Uniform over function?
Some fans thought Cincinnati's shorts at the recent Big East tournament looked like the infamous Zubaz pants from the early 1990s.

---
Old school vs. new school
When the two schools met earlier this year, Indiana stuck with its traditional look, while Michigan went with neon yellow jerseys and matching letters and numbers.

---
Market research?
Oregon has made a splash with its frequent uniform changes, leading other schools to do the same in an effort to keep up with recruiting.

---
Something up their sleeves
Seeing sleeves on an NBA court was surprising, but was it worse than what we saw at the college level during conference tournament play?