The Nuggets are quietly moving up the Western Conference standings behind a 13-game win streak, a streak that includes four wins over three of the four teams currently positioned ahead of them. They haven't lost to a conference foe since early January, coming at the hands of the Thunder. A big reason is their dominance in the paint, an area where they've outscored their opponents in 50 straight games. Have the Nuggets done enough to be considered a legitimate threat?
DriveForFive_5: "Nuggets are legit and a true contender out West. Young, athletic, deep, good PG's (Andre Miller is still legit at 37) and well coached. Going to be a battle in the West. Spurs, OKC, Nugs, Grizz could all win it."
Boca79: "not a nuggets fan but man they are running teams off the floor. very exciting to watch."
christheheyman: "As a Nuggets fan, I'm starting to believe. Haven't felt like there was a legitimate WC contender here since 2009...and back then, the team wasn't nearly as strong from top to bottom."
awesome0_3000: "Nuggets could very well be in the Western Conf Finals if they keep it up. If they can show they can beat San Antonio after showing they can beat OKC regularly, could be a surprise finals team."
Sir Coopalot:"Nuggets are a scary team that's finally starting to fire on all cylinders. Can't wait to see how far they take it."
Iam Your Huckleberry:"After that beatdown at OKC, I am a believer. The energy they brought on the second night of a back-to-back was unbelievable. Andre Miller was so savvy ... Manimal a beast. They are for real."
xMJ23GOATx:"I like Denver and Memphis. But they have no chance in the playoffs against Spurs, OKC or Lakers"
Join the conversation or respond by signing in or creating a profile and blogging.
---
Gone streaking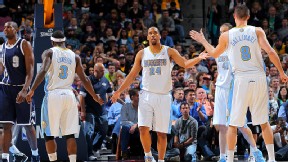 The Nuggets set a franchise record with 13 straight wins and 14 straight against teams in the West.