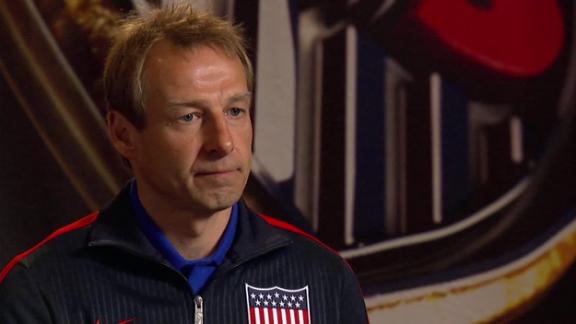 Team USA might have benefited from the snow in their win against Costa Rica, but unless there's a blizzard coming that everyone missed, they won't have that luxury in Mexico. Tonight's World Cup qualifier in Estadio Azteca is a daunting one for Team USA, which is 0-5-1 in qualifiers when visiting Mexico. Can the U.S. pull off a win this time?
TeamUSAfan75: "Why dont we have our own Azteca?? A place that our opponents fear and are truly scared to play at. Any stadium in US (beside denver) that fits those purposes?"
Davidisyourdaddy: "American fans, don't get your hopes up... Another loss. Guaranteed"
boofyusa: "I really hope the US can escape with a point, or at least a non-humiliating loss. Everyone seems to be talking up the little hiccups that Mexico has suffered the last 2 games (and also the completely meaningless--at least in this context--friendly win we had there last year) and how that will likely translate to a US result. I believe the exact opposite, especially since it's the biggest rivalry for the two teams. "
swat330199: "I expect 2-1 for Mexico but wish for a 1-1 draw."
hpr641: "For the US, a win would be incredible, a draw would be just fine, and even a loss would leave them in OK shape (especially since they'll have 4 home games vs. 3 away games left). For Mexico, a loss (even a draw, but to a lesser extent) would leave A LOT of worries and with no more games to play for over 2 months. With a win, they'd have 5 pts. through 3 games and find themselves right on course for a top-3 finish. "
Capitalp1982: "3 points would silence all the critics. 1 point would still be a big win! Going to be hard, but this is the type of stakes we will face at the WC next summer. Win lose or draw hopefully we perform well."
Join the conversation or respond by signing in or creating a profile and blogging.