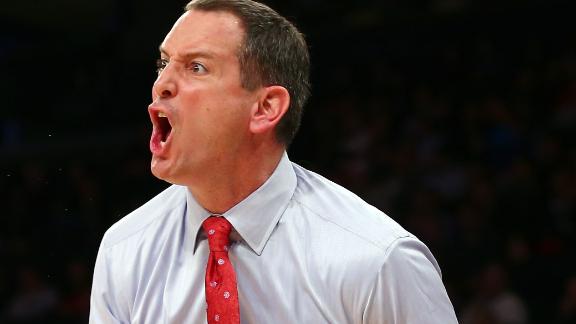 From New Jersey political leaders to SportsNation, the reaction to footage of Rutgers basketball coach Mike Rice physically and verbally abusing players has been strong. Now that Rice has been fired, do you believe athletic director Tim Pernetti and university president Robert Barchi should also lose their jobs for choosing to discipline rather than fire Rice when first confronted with the video evidence?
NIU_HUSKIE11: "He's only being fired because the video was made public. The AD has to lose his job for this to mean anything to the public."
JofarcK: "Pernetti's decision to "rehabilitate" a coach smacks of the same misplaced priorities we saw at Penn State. The primary job should be to protect others from a coach who is out of control, not to cover up in the name of compassion."
Cam Lied and Tebow Cried: "Knew about the video and did not fire him until public backlash, AD should go too."
herdno1mac: "I have been in the Army for 28 years and we don't even treat soldiers like that in Basic Training. If you don't need to use homophobic slurs and physical abuse to train people how to follow orders and kill, why in the world would someone think you need to do that to train people how to play basketball?."
Tia Ling: "Rutgers has to fire the leadership that allowed Rice to stay in the first place. Leadership is clearly lacking here and it goes beyond Rice."
geauxgettemtigers: "Everyone saying that Rice did not cross the line and he is just intense need to realize there is a big difference to what he did and what coaches like Will Muschamp, Bob Huggins, Coach K, etc... do. Once you become that physical where you are throwing balls and kicking players you are crossing the line."
What do you think? Leave your comments below.