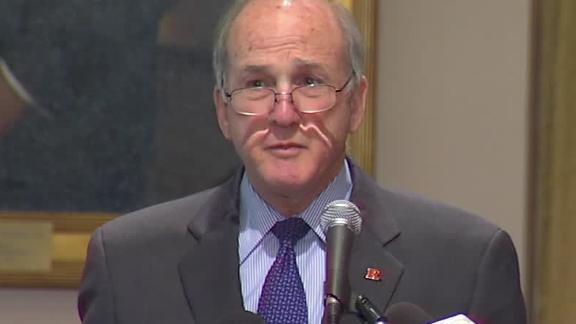 Rutgers has been getting rid of many of the major players in its recent videotaped abuse scandal. Coach Mike Rice has been fired, while assistant Jimmy Martelli and athletic director Tim Pernetti have resigned, but Rutgers president Robert Barchi remains. Barchi claimed that he hadn't seen the videotape of Rice pushing, throwing basketballs and cursing at his players until this week, and that he would have recommended Rice's firing if he had. He's characterized the entire situation "a failure of process," but is he part of the problem?
transfixed___34: "I bet the president saw the video. I don't believe him."
jsuswaram: "President of Rutgers goes next! Why would he not want to view the video tape...he DID NOT WANT TO VIEW THE TAPE!"
ajbttact: "I don't have an issue with Pernetti being fired but the President should be fired too. I am not sure I really believe he didn't see the video, but if I take him at his word that he didn't, then I have to ask "why not". In the end, he signed off on what Perenetti did in regards to the suspension."
neilymon: "Not firing Rice in November was completely ridiculous."
jorge193806: "Division One Sports run many Universities. School Presidents do not have all the power. "
Robs555555: "After they decided to suspend him three games and dock him $75,000, it's surprising that the President didn't think, maybe I should check out this video."
Join the conversation or respond by signing in or creating a profile and blogging.