When he's healthy, Rob Gronkowski is probably the best tight end in football. ''When he's healthy'' being the key phrase here -- Gronkowski has had several injuries that caused him to miss key games in his career, and reports of a possible fourth surgery on his left forearm don't seem to bode well for his future robustness. The Patriots are known for their punishing passing attack, but without a healthy Gronk, they're just not the same team.
Gatorb8t2: "A new infection when you are already on a regimen of antibiotics is a very serious condition"
Cvsooperman: "Pats are on the decline, Brady is getting old. They haven't won anything in almost a decade."
htimsr40: "Gronk will have company in the training room from Danny Amendola. "
JohnnyAlexis14: "Patriots are DUMB for awarding him a big contract, and it will come back and bite them. He's always hurt."
dhammer303: "For as dominant as Gronk and Henrnandez have been on the field, they sure throw a lot of business to doctors and surgeons."
PATS_3RINGS: "The Patriots feel snake bitten right now. The trolls would say it's karma because of "spygate" but Brady isn't the same player, Wes is in Denver, Gronk is still hurting, and the defense still doesn't seem good enough to win in the playoffs. 2004 seems like 30 years ago at this point."
Join the conversation or respond by signing in or creating a profile and blogging.
---
Walking wounded?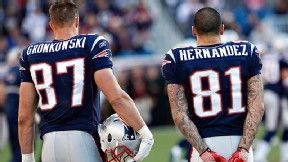 All three of the Patriots' marquee receiving threats have had injury issues. Danny Amendola missed nearly all of the 2011 season, while Aaron Hernandez has never played the entirety of a 16-game season.