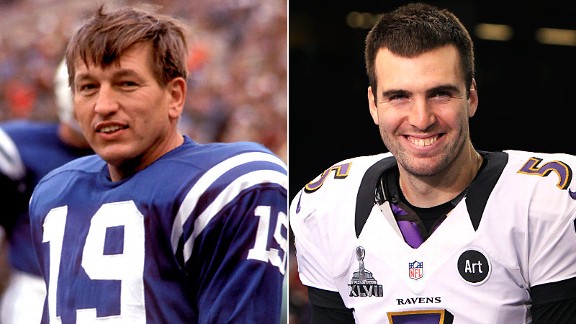 It's been a good past few months for Joe Flacco -- he won a Super Bowl, silenced legions of detractors, and signed a humongous contract. Now, he'll be portraying NFL legend Johnny Unitas for part of a movie about Unitas' life. Not everyone is happy with that casting choice, however -- Unitas' oldest son called Flacco a ''goofball'' and said the movie (which is being co-produced by Unitas' son from his second marriage) should have gone with Peyton Manning. We're not sure about Flacco's acting ability, but we're positive that it's better when the actor portraying an athlete possesses at least a modicum of athletic ability.
juan9179: "I don't get the reasoning for this choice? Is there a physical resemblance? or is it just because he currently plays for Baltimore? It makes no sense why Flacco would be considered...especially with all the other 'real' actors available. And is he a member of the SAG? That could cause union issues as well...just wondering."
numbah1110: "I don't get the big deal. Flacco is essentially a stunt double."
bumeri: "Keanu Reeves should take the role. He played an awesome QB."
Some Heads Are Gonna Roll: "He may very well get an Oscar. He convinced the Ravens he was a competent QB."
CraigThomas76: "Oh my God, we only got the sixth best quarterback in the league to play him! The outrage!"
liquidlightening101: "It's no big deal. With CG they can just generate a ball that looks like its on target."
Join the conversation or respond by signing in or creating a profile and blogging.