After calling a game-ending strike three on a pitch Harry Doyle from "Major League" would describe as "juuuuuust a bit outside," Marty Foster didn't hide. The plate umpire in the Rangers' win over the Rays acknowledged to a pool reporter that he blew the call on a pitch that should have walked Ben Zobrist instead of giving Joe Nathan his 300th career save. While Foster gets points for accountability, it doesn't change the numbers on the scoreboard. How do you rate the quality of umpiring in the major leagues?
---
Mistakes were made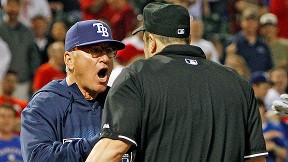 Rays skipper Joe Maddon wasn't very happy to lose a game on a questionable strike call. Should MLB ever turn to video to check balls and strikes?

JWalterWeatherman09: "The bigger problem is that there's no accountability for the umpires when they make a call like they did last night. I get that bad calls do happen due to human error, but the call last night was beyond ridiculous. Remind me again why we can't just switch to robots to call balls/strikes. It's not like we don't have the technology already in place for it to work.."
uj6238: "Was it a actual strike... no. was there loads of other pitches missed... yes. The Ump was all over the place... it's the human element MLB and Bud want... every night we see blown calls in the replays.
Tgooose: "Umps are going to make mistakes. When they are egregious as this one it would be nice to have a process where the call could be reversed. They will never announce it publicly, but the ump should be fined, suspended without pay, etc."
kwelch1962: "If the call had been borderline, I can see comparing it to other calls in the game. But this wasn't even close and any umpire above little league should have made the right call."
piteus: "Everybody makes mistakes. At least he admitted it. What else can you do? Move on to the next game."
What do you think? Leave your comments below.