Connecticut coach Geno Auriemma is knocking on history's door. With his eighth NCAA championship, he has tied former Tennessee coach Pat Summitt for the all-time women's basketball record and is only two titles from tying John Wooden's 10 at UCLA. And as long as players such as freshman Breanna Stewart keep going to Storrs, records that once seemed untouchable appear to be within reach. Will Auriemma win three more titles and pass the Wooden for the most NCAA basketball championships ever?
---
Measure of success
For years, Pat Summitt and Geno Auriemma were the benchmark for excellence in women's college basketball -- and their rivalry showed it. Is Auriemma now the best women's coach ever?

---
The Program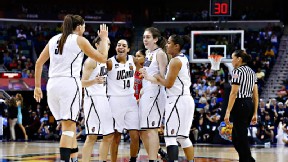 Now that UConn has matched Tennessee's eight NCAA titles, are the Huskies the team that comes to mind first when you think of women's college basketball?