The Angels weren't expecting to hear boos at their home opener. (So much for that mellow SoCal stereotype.) But little has gone according to plan for a team that entered the season with a high payroll and high expectations. Josh Hamilton, signed for $125 million as a free agent, is batting .138 entering Wednesday's games. And the team's best starting pitcher, Jared Weaver, is out for a month with an elbow injury.
Is it too early to panic in Anaheim? Or are echoes of last season -- in which the Angels went 8-15 in April and missed the playoffs by four games -- a reminder of what can happen when a team stumbles out of the gate?
---
You're hot and you're cold...
Josh Hamilton has struggled at the plate. But he's shown over his career that he can break out of slumps and catch fire. Which player will Angels fans see more of in 2013?

---
Enough pitching?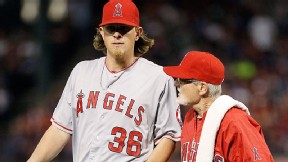 The loss of Jared Weaver has already forced the Angels to scramble for starting pitchers. How much will his absence hurt?

---
Russ Strever: "Prob with Angels, is there getting away from the small ball they played and won with in 02, to the power ball where as the better teams are still playing small ball. Pitching is a big big issue still, and now even more so with loss of Weaver for a month. Hamilton was a mistake signing, letting hunter go was bad. Should have resigned Greinke instead and strenghtn that pitching rotation and bullpen.."
James Thomas: "Angels fans... we told you so. The problem with Josh is he is a natural. His philosophy to hitting... see ball, hit ball. Pitchers will adjust to him but he is slow in adjusting to them... You should have given Greinke the money you gave Hamilton and resigned Torii Hunter."
Robbie Leffel: "Hometown fans that boo their teams in April don't understand baseball."
What do you think? Leave your comments below.